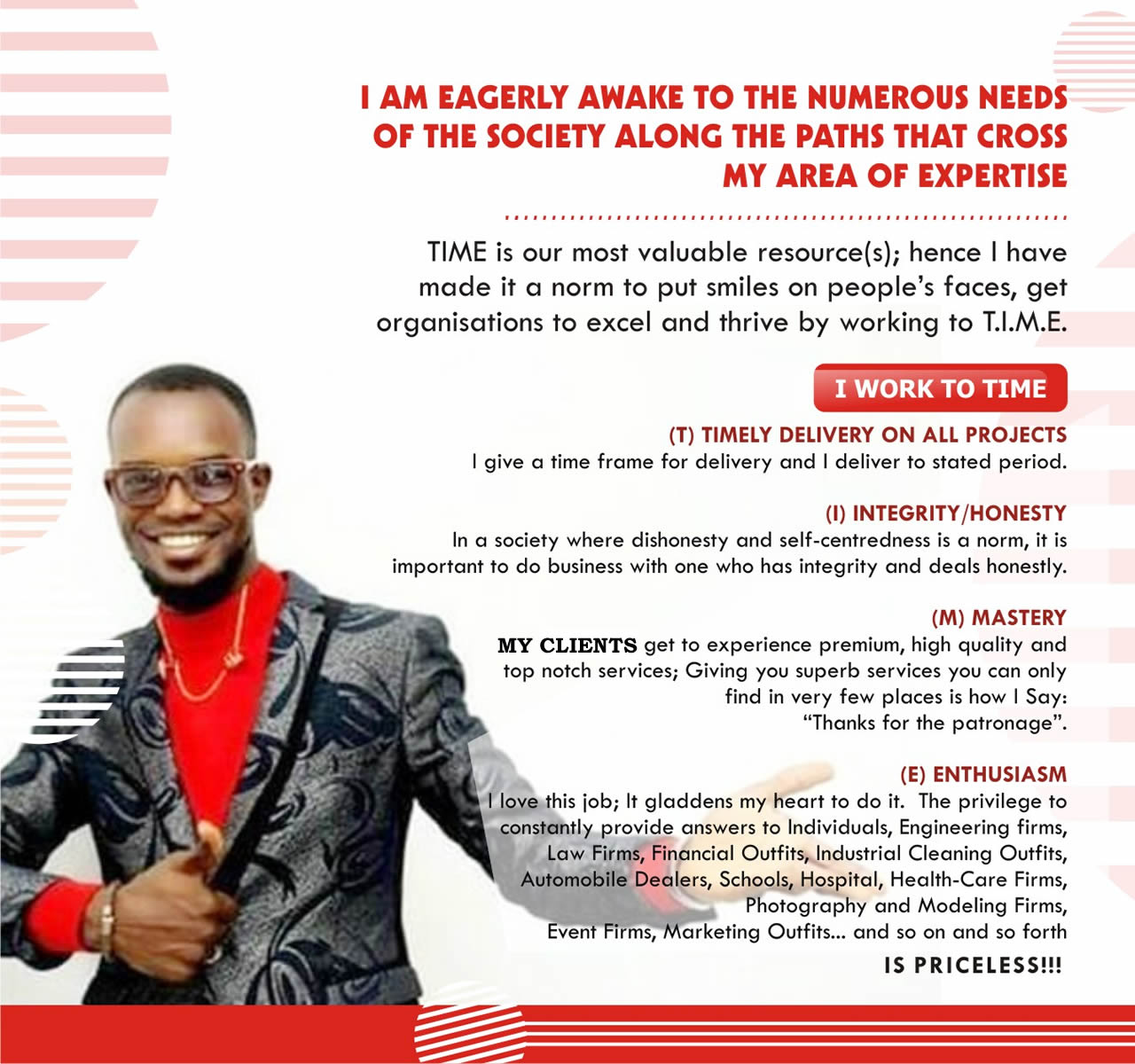 Few of My Clients:
Altofa Nigeria Ltd
Bizshield Africa
Blessed Assurance Partners
Crypto Builder Nigeria
Delight Samplus Ltd
DriversPool NG
Dyp Wealth Resources Ltd
Easy Life PFM Ltd
FameSeekers Media
Femnik Consulting Ltd
Gaits Logistics Ltd
Green Africa Marketing Associates
Hemingsways Safari
Hephzibah Engineering Ltd
Heritage of Glory International School
KEK Nigeria Ltd
Kingdom Way Schools
Last Solution Services
Mayflora Consulting Ltd
Myscreenplayz
NARAG Unity Farms
Nigerian Young Academy (NYA)
Olaniyi Creative Institute
Oasis Logistics Ltd
Oasis Technical Automation Enterprises
Party Essentials Ltd
Ready I Class
Simply Olajire Solutions Ltd
SIMOL Business Consulting
Successful Living Thots
Trabacus Educational Supplies Ltd
Tunde Odanye and Co.
U4P Initiative
Questra Nigeria
Vilcaz Voucher
Vindos Auto Nigeria Ltd
Watershed Christian Ministry
WittyNet Foundation



ISMAIL JOSEPH, MD, EasyLife PFM Ltd
"Dotun Cometova as a brand & his firm cometova Nigeria is the total package: Speed, Quality & Precision. I've never seen a beautiful website delivered in such amazing speed before"
MRS MARY ONI
"I made payment for a newspaper publication and in less than 24 hours it was in Guardian Newspaper. Thanks for a job well done"
TEMITOPE AKINTUNDE CEO, Vilcaz Voucher
"I was initially hesitant to pay before service as I had been swindled by a couple of misguided elements on Instagram in the past. I'm delighted that despite making full payment, Dotun Cometova delivered a spectacular marketing video within the time frame he said he will deliver. The sky is your starting point dear"
EBERE ELELE
"I needed to do a newspaper publication & was initially unsure of how genuine Dotun Cometova was considering we have many scammers & fraudsters. I paid on a Monday & the publication was up on Wednesday. It was nice doing business with you Dotun"
STEPHANIE EZENWA Millionaires' Empire, SwissGolden
"The Google Ad experience has been wonderful; it's a real heroic gesture on our part & thankfully a highly rewarding one. Thank you Dotun, we hope to do this again soon."
DAYO ADEGOKE From Lagos
"This Name Change Publication service makes a lot of sense. I contacted Dotun Cometova on a Friday Morning and he was able to have it published on Saturday Guardian Newspaper. I love this speed and professional work rate."
CHEDDY NOBIS From Portharcourt
"Your Google Ad has been fantastic as you have put smiles on our faces. Patronizing you is money well spent. Thanks so much"
ISRAEL ADOBA BDE, Hamilton Lloyd & Associates
"Lovely service! Great marketing video piece you delivered for us. Well done Dotun Cometova"
MORONFOLU ADENIKE B.
"I applaud your work rate, efficiency & authenticity. I attempted publishing a name change for someone recently but couldn't until I contacted Dotun Cometova. He assured me he'll deliver & he did just that."
STELLA AIDEYAN

"Great Service,Good Speed. It's great to have someone who could get the job done & have value delivered in such short time frame"

SEGUN AYINLA (aka Da Boomsha) Manager, Da Boomsha Kreative

"Great and Fast Service Delivery. I never knew a Newspaper Publication could be done that fast, Kudos. Keep up the good job."

KENNEDY ONUKWUFOR From Portharcourt

"I am yet to meet Dotun Cometova in person, yet we were able to transact business smoothly. For me, that's a noble & assuring attribute I completely applaud. Well done Dotun"

GLORIA CHUKWUEMEKA from Enugu

"With Dotun Cometova, distance is not a barrier. He offers top-notch & timely newspaper publication services"

OLAJIRE OLAITAN CEO, Simply Olajire

Hit the showers right now for a cool bath! Couple that with a sumptuous dinner; you've done a great job. This is a top quality graphic work you just delivered for us.

ALEGBE OMEBEN CEO, KEK Nigeria Ltd

"Getting to contact Dotun Cometova was actually an act of faith that paid off in manifold quantities. I saw his advert on a friend's facebook wall, checked the websites he has done, contacted him and yes, he delivered to promises and in good time too. He is definitely one of the foremost web developers of our time."

VINCENT OSARETIN CEO, Vindos Auto Co Nig. Ltd (aka. Benin Ware-House)

"Beautiful isn't it? Having a website built to match your exact business line. Dotun Cometova built a website for my automobile firm some time ago. From the look of the sight, you already know what we are into. I applaud his experience"

AKWAUGO OPARA From Portharcourt

"Having you do our Google Ad has been great. A lot of people have joined our SwissGolden Team on Whatsapp & we believe enormous conversion of this members to investors will kick-off soon.

SEGUN DAIRO Financial Analyst CEO, Dara Investments United Kingdom

"Despite transacting far in the UK here, I can say I have had first hand rapport with Dotun Cometova and can boldly declare that his services are top quality."

SEUN JAIYEOLA From Lagos

I am not only happy with the reliable services by Dotun Cometova - I am also overwhelmed by his response rate. I contacted him to help publish a change of name for someone in a day or two's notice & it was published in good time.